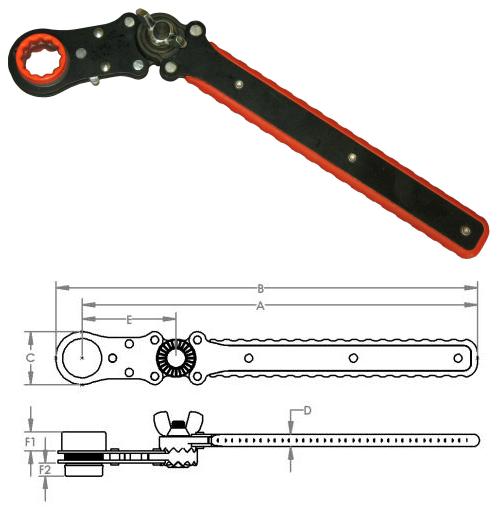 Lowell Corporation's Model 8E "Bolt-Thru", articulating, double socket wrench for pipeline installation and repair. Available in two models; 8E4D1 and 8E4D2.
Reversible articulating head
12 point socket openings
200 lb-ft torque capacity
36 ratchet teeth (10 degree handle throw)
Ergonomic handle grip
Hi-Vis socket and grip
Also available in a kit (8E4K1) with two heads and all four hex openings
Made in USA
Patent Pending
* To ensure long life and maximum capability clean and lubricate after each use.

Model

Socket Opening

A

B

C

D

E

F1

F2

Weight

Part Number

8E4D1

1-1/4″ Hex x 1-1/16″ Hex

16″

17″

2-1/16″

1/2″

3-3/4″

3/4″

1/2″

2-3/8 lbs

8E4D1

8E4D2

1-1/8″ Hex x 15/16″ Hex

16″

17″

2-1/16″

1/2″

3-3/4″

3/4″

1/2″

2-3/8 lbs

8E4D2

8E4K1

TWO HEADS

1-1/4″ Hex x 1-1/16″ Hex

and

1-1/8″ Hex x 15/16″ Hex

16″

17″

2-1/16″

1/2″

3-3/4″

3/4″

1/2″

3-1/2 lbs

8E4K1