Extended Nose Clamps Solve Tough Grip Problems
Lowell Corporation
West Boylston, MA  January 14, 2014 – Porter-Ferguson's two CL Series Extended Nose Clamps make it easier for auto body techs to get a grip on a spot that is hard to reach or in an area that is confined.
In addition to an extended nose for greater reach, the 3-ton self-tightening clamps feature a cross-hatch teeth design with greater depth for additional gripping power and a swiveling pull ring to minimize chain twist. Both clamps are spring loaded for easy operation.
The two clamps in the series are the CL0690 and the CL0690SP. The only difference is that the latter is fitted with P-F's CL0198 Side Pull Adapter. The adapter also has a 3-ton capacity and increases the clamp's versatility by providing multi-angle or mult-point pulling.
Both clamps have a gripping surface that is 1-1/4″ wide by 27/32″ deep (32mm x 21mm) with a minimum throat clearance of 9/32″ (7mm). Both are 8″ (203mm) long and weigh 2-3/8 lbs (1.1 kg). The side adapter adds 6 oz. (0.2 kg) to the tool's overall weight.
The only option for the clamps is the CL0199SH Slide Hammer Pull Adapter which has 3/4–14 threads to accommodate most professional quality slide hammers. Installation is simple and it's quick and easy to swap the slide pull adapter for a standard pull ring.
Like all of the company's products, Porter-Ferguson clamps and accessories are 100% made in USA and guaranteed against defects in material and workmanship for a period of one year from date of delivery.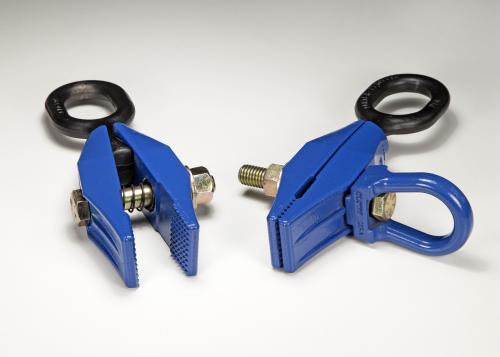 Porter-Ferguson is a division of Lowell Corporation. For more information about Porter-Ferguson Extended Nose Clamps, or for a full-line catalog on either P-F or Lowell tools, call 800/456-9355 or 508/835-2900, email customerservice@lowellcorp.com or visit the parent company's website, lowellcorp.com.