New Kit Easily Puts Power in Tight Spots
Lowell Corporation
Worcester, MA  November 15, 2013 – To make it easier for techs to apply and remove pushing power in tight spots, Porter-Ferguson introduces its SM14T-KIT Tight Spot Kit comprising an SM0014T Telescoping Mini Ram and an Extension Arm for inserting into and removing the ram from frame rails, motor mounts, door panels, and many other remote or confined areas.
The Extension Arm is 24-5/8″ long, 2″ wide, and weighs 1 lb. Along with supporting the ram it protects the hydraulic hose from scraping and cutting. In addition to convenience, the Telescoping Mini Ram also offers auto body techs tremendous versatility. A two-stage tool, the Ram's height with the pistons fully retracted is 2-5 ⁄16″. Height with the first stage extended is 3-5 ⁄16" and the max height with both stages extended is 4-5 ⁄16". Max capacity is 4-ton (3.6t) for stage 1 and 1-ton (.9t) for stage 2.
The Mini Ram's cylinder and piston are made from tool steel. Special U-cup packings ensure longer life, better sealing, and easy repair if necessary. The drop-forged base provides a stable footing. An angled port minimizes hydraulic connection problems.
Although the Telescoping Mini Ram is supplied ready to attach to a P-F 4-ton Speed Midget pump, the tool's standard 1/4–18 NPTF port allows users to replace the ram's coupler and make it compatible with a hydraulic power source from another manufacturer.
Price of the Tight Spot Kit is $227.70 and it is available from Porter-Ferguson distributors.  Both the Extension Arm and the Telescoping Mini Ram are available separately. The Arm will also work with the P-F SM0014 standard Mini Ram.
Like all of the company's products, the Porter-Ferguson Tight Spot Kit is 100% made in USA and guaranteed against defects in material and workmanship for a period of one year from date of delivery.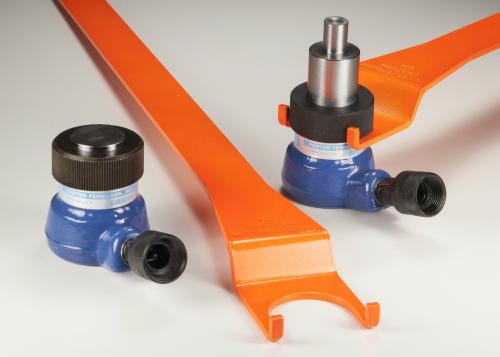 For more information about the Porter-Ferguson SM0014T Telescoping Mini Ram, or for a full-line catalog on either P-F or Lowell tools, call 800/456-9355 or 508/835-2900, email customerservice@lowellcorp.com or visit the parent company's website, lowellcorp.com.