New Pull Adapter Allows Use With Slide Hammer
Lowell Corporation
Worcester, MA  September 23, 2011 – When using a slide hammer with a self-tightening pull clamp, a new Slide Hammer Pull Adapter from Porter-Ferguson gives an auto body repair technician more precise control over pulling operations than is possible with standard tightening pull rings.
The Model CL0199SH has 3/4 – 14 threads to accommodate most professional quality slide hammers. Price for the adapter is $28.50 and it is available from Porter-Ferguson distributors.
The adapter is designed to work with four Porter-Ferguson Bite-Tite™ 3-ton self-tightening clamps: the Standard CL190 multi-angle clamp; the Deep Throat CL290 multi-angle clamp; the Extended Nose CL690; and the Weld & Work Multi-Angle Swiveling Clamp CL1490.
Although optimized for use with Porter-Ferguson clamps, the P-F Slide Hammer Pull Adapter has a conical base design that is compatible with many clamps from other manufacturers.
Installation is simple and makes it quick and easy to swap the Pull Adapter for a standard pull ring.
Like all of the company's products, the Porter-Ferguson Slide Hammer Pull Adapter is 100% made in USA and guaranteed against defects in material and workmanship for a period of one year from date of delivery.
For more than 70 years Porter-Ferguson has been the standard of excellence in the field of automotive push pull sets and high quality auto body repair clamps. Now a division of Lowell Corporation, Porter-Ferguson continues as the only supplier of 100% made in USA hydraulic rams, jacks, and spreaders for the auto body repair shop.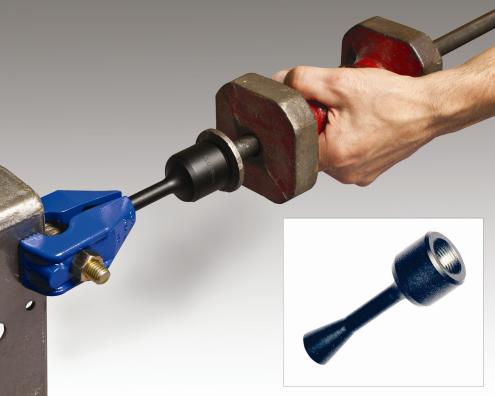 For more information about the new Porter-Ferguson Slide Hammer Pull Adapter, or for a full-line catalog, call 800/456-9355 or 508/835-2900, or email customerservice@lowellcorp.com.