P-F Chain Accessories Make Life Easier for Techs
Lowell Corporation
WEST BOYLSTON, MA     September 13, 2013 – Porter-Ferguson offers a complete line of rugged accessories for use with 3/8″ chain that can make set-ups and changes faster in any pulling system.
With the CA0156 Quick Hitch, a tech can quickly and easily attach two chains without having to add a grab hook.
There are three catches. The CA0157 Quick Catch speeds up the grab process by eliminating the need for a hook as does the CA0166 Single Chain catch which also eliminates the problem of twisting that often occurs when using a grab hook. The CA0167 Double Chain Catch lets a tech quickly and easily shorten a chain or hook two chains together.
For maximum versatility, the CACHA1 Cluster Hook Assembly combines four hooks to let a tech access a variety of attachment points without having to go back and forth between the work and a toolbox. There is an "R" hook that fits General Motors tie-down holes; a "T" hook for Ford tie-down holes; a "J" hook for use on foreign cars, SUVs, and light trucks; and a grab hook that can easily secure the work and/or additional chain length.
P-F's chain accessory line also includes slip and grab hooks, teardrops, shackles,  and a 3/8″ grade 70 chain that is proof-tested to 20,000 lbs. and is available in bulk or cut to any length.
The chain accessories are 100% made in USA, are OSHA-approved, and carry
a lifetime warranty against defects in material and workmanship, subject to normal usage, wear and tear. All parts except the chain are made of drop-forged heat-treated alloy steel.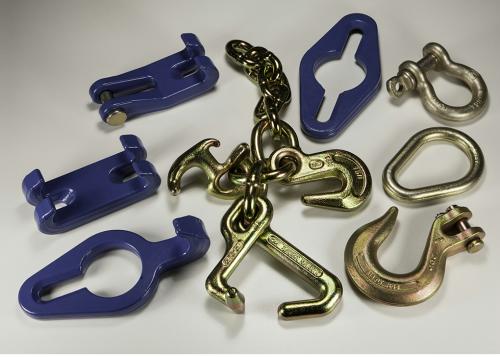 Porter-Ferguson is a division of Lowell Corporation. For more information about P-F auto body repair tools, or for a full-line catalog on either P-F or Lowell tools, call 800/456-9355 or 508/835-2900, email customerservice@lowellcorp.com or visit the parent company's website, lowellcorp.com.