P-F Hydraulic Rams Offer Versatility and Long-term Reliability
Lowell Corporation
WEST BOYLSTON, MA     January 24, 2013 – Porter-Ferguson hydraulic rams can generate instant power in any position and are built for maximum flexibility and trouble-free operation.
The product group comprises three lines: Speed-Midget® Standard Duty Rams; Pull Rams; and Hydro Chief® Heavy Duty Rams. All products feature quick disconnect couplings to get them into service faster. All have special U-cup packings for longer life, better sealing, and easy, speedy repair. Ram cylinders and pistons are made from tool steel to stand up to tough usage. On the SM0024 and SM0034, a special ring on top of the cylinder wipes dirt from the piston upon retraction to protect the seal from dirt penetration and enhance tool life.
There are four models in the Speed-Midget line. The SM0014 and SM0014T are extra short 4-ton rams for use with Speed-Midget pumps with 1/4″ quick disconnect couplings. Extended height for the SM0014 is 3-5/16″ (85mm) and 4-5/16″ (109mm) for the SM0014T with its telescoping feature. Each weighs 1-1/5 lbs. (.7 kg). Both provide fast power in remote or restricted spaces. Drop-forged bases with angled ports minimize hydraulic connection problems and provide a more stable footing.
The Model SM0024 also works well in tight quarters. The SM0024 has a retracted height of 4-7/8″ (123mm), piston travel of 3-1/4" (82mm), and weighs 2-1/2 lbs. (1.2kg).  The standard threadless piston connector will work with Porter-Ferguson EZ-E-ON®  attachments. Porter-Ferguson's SM0001 adapter can convert the standard connector to threaded tubing for use with threaded attachments. A drop-forged base with an angled port minimizes hydraulic connection problems and provides a more stable footing.
The largest Speed-Midget ram is the Model SM0034. It has a retracted height of 9" (228mm), piston travel of 4-3/4" (120mm), and weighs 3 lbs. (1.4kg). In addition, the SM0034 has a threadless, self-retracting piston and base so that Porter-Ferguson EZ-E-ON attachments can be connected at either end. Porter-Ferguson's SM0001 adapter can convert the standard connector to threaded tubing for use with threaded attachments. The SM0034 also features a tool steel spring to exert maximum tension, to retract the ram faster and to ensure longer life.
The two P-F pull rams, the 2-1/2 ton Model SM0034P and the 3-1/2 ton SM0134P, are also versatile, rugged, and dependable and make work quick and easy. Respective retracted heights are 11-11/16″ (297mm) and 11-11/16″ (297mm) while extended heights are 16-11/16″ (297mm) and 16-11/16″ (297mm). The SM0034P weighs 4-3/8 lbs. (2 kg) and the SM0134P weighs 4-3/4 lbs. (2.2 kg).
The SM0100 spreader jack can be used with all Speed Midget jacks to open up confined areas for easy finishing.
At the heavyweight end of the P-F Rams lineup are the 10-ton Hydro-Chief BU0484 and BU1484. These self-retracting, all-purpose rams are designed for use with 1-1/4″ threaded or SPEEDLOCK equipment. Retracted height for the BU0484 is 11-3/4″ (299mm) and 16-1/4″ (413mm) for the BU1484. Respective extended heights for the BU0484 and BU1484 are 17-3/4″ (451mm) and 26-1/4″ (667 mm).
Like all of the company's products, Porter-Ferguson rams carry a lifetime warranty against defects in material and workmanship.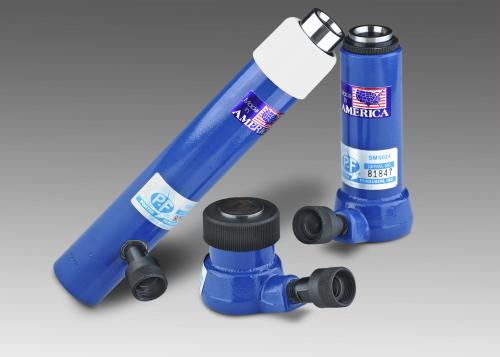 For more information about the P-F hydraulic rams, or for a full-line catalog on P-F tools, email customerservice@lowellcorp.com, call 800/456-9355 or 508/835-2900, or visit the parent company's website, lowellcorp.com.