P-F Jacks Combine Power with Durability
Lowell Corporation
West Boylston, MA  March 13, 2014 – The Porter-Ferguson line of jacks offers auto body repair and rescue users several choices of powerful and rugged remote control manual or pneumatic-powered hydraulic models . Each PF jack comprises several basic components: either a hand or air-powered hydraulic pump; a hydraulic hose; a quick connect coupler; and a ram.
There are five pump options: two hand hydraulic pumps, the SM0033 Speed Midget™ pump, and the BU0483 Hydro-Chief™ pump; and three air-operated remote hydraulic pumps controlled by a hand/foot pedal, the PF1000, PF2000, and PF3000. PSI ratings range from 7,000 to 10,000. All can be used with a variety of ram sizes and types.
Many users find the tools so durable they can be passed on to succeeding generations. All pumps feature a steel, drop forged broad base, ensuring stability even in awkward positions and able to withstand years of hard use. Baked enamel finish gives corrosion protection and prolongs a new appearance. The pump handle has a soft plastic grip for more comfortable operation and unscrews for easy storage.
Filter screens at hose holes prevent dirt from entering pump or ram. A magnet in each pump reservoir attracts metal chips and filings to insure correct ball valve seating and to prevent ram seal damage. A 1/4 turn filler screw makes it easier to operate and bleed the pump and to add hydraulic oil. A safety relief valve prevents overloading.
Other durability features are a maxi-micro finish on the piston that helps pump seals last longer and heat resistant piston packings. Stainless steel balls and springs in a coined steel seat make valve life longer and more trouble-free.
Like all of the company's products, Porter-Ferguson jacks are 100% made in USA and guaranteed against defects in material and workmanship for a period of one year from date of delivery.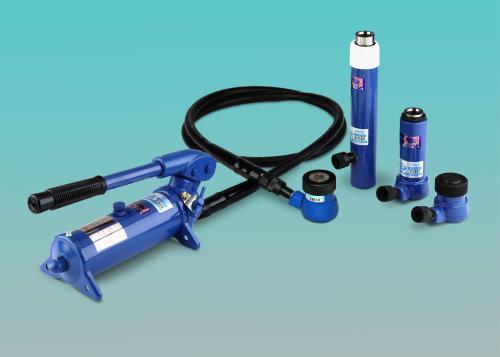 Porter-Ferguson is a division of Lowell Corporation. For more information about P-F auto body repair tools, or for a full-line catalog on either P-F or Lowell tools, call 800/456-9355 or 508/835-2900, email customerservice@lowellcorp.com or visit the parent company's website, lowellcorp.com.