P-F Soft Pull Straps are Tough but Gentle
Lowell Corporation
WEST BOYLSTON, MA     May 8, 2013 –  Unlike chains, Soft Pull Straps from Porter-Ferguson can handle a variety of pulling jobs without marring, galling, or damaging the work surface.
There are two models: 36″ long and 60″ long. Each is available in either standard or heavy duty pulling capacities.
For comfortable handling and to protect hands from pinching and cutting, all P-F straps have a double wall cover of durable Tuflex® material. This cover also prolongs strap lilfe as does an optional wear pad.
Although the straps provide heavy duty pulling power, they are lightweight and flexible enough to conform to odd-shaped objects such as trunk lids and fenders. Their flexibility makes it possible to use them in eye-to-eye, basket, or choker configurations. Because they are form-fitting, they deliver more uniform load distribution.
Pulllng capacities are: 5,300 lbs. for eye-to-eye standard, 10,600 lbs. heavy duty;  4,300 lbs. choker standard, 8,500 lbs. heavy duty; and 10,600 lbs. basket standard, 21,200 lbs. heavy duty.
Value is also an important benefit: the P-F straps cost less and offer greater flexibility and versatility than web straps.
The straps are 100% made in USA and are OSHA-approved.
Porter-Ferguson Soft Pull Straps carry a lifetime warranty against defects in material and workmanship, subject to normal usage, wear and tear.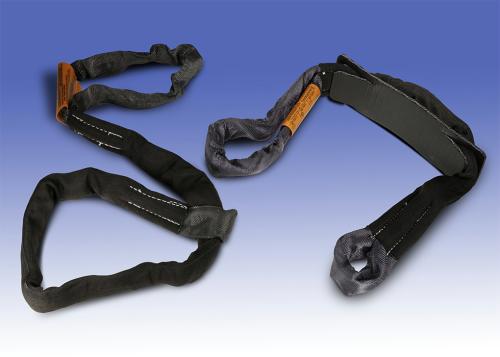 Porter-Ferguson is a division of Lowell Corporation. For more information about PF auto body repair tools, or for a full-line catalog on either P-F or Lowell tools, call 800/456-9355 or 508/835-2900, email customerservice@lowellcorp.com, call 800/456-9355 or 508/835-2900, or visit the parent company's website, lowellcorp.com.