Versatile P-F Cluster Hooks Can Save Time and Money
Lowell Corporation
WEST BOYLSTON, MA     June 14, 2012 –  Porter-Ferguson's all-in-one Cluster Hook Assembly delivers versatility that translates into savings of time and money for auto body repair shops, towing companies, and even rescue operators. The tool combines multiple hooks to give a tech a variety of attachment options and helps avoid having to go back and forth between the work and the toolbox to get the right individual hook.
In addition to versatility, a major benefit of the P-F cluster hook is the way it actually supports and adds a little strength to the attachment point and reduces the possibility of ripping.
There are four models in the line.
The CACHA1 standard assembly includes three hooks: an R hook fits General Motors tie-down holes; a T hook fits Ford tie-down holes; and a J hook for use on foreign cars, SUVs, and light trucks.
The CACHA2 includes the standard assembly and adds a grab hook that can easily secure the work and/or additional chain lengths.
The CACHA3 includes the standard assembly and adds a slip hook for secure attachment other than by chain.
The CACHA4 includes the standard assembly and adds a single chain catch for easy securing and/or additional lengths of chain.
All P-F cluster hook assemblies are made with 3/8" Grade 70 chain, have a working load limit of 6,600 lbs., and a proof test of 26,400 lbs. All are 100% made in USA and carry a lifetime warranty.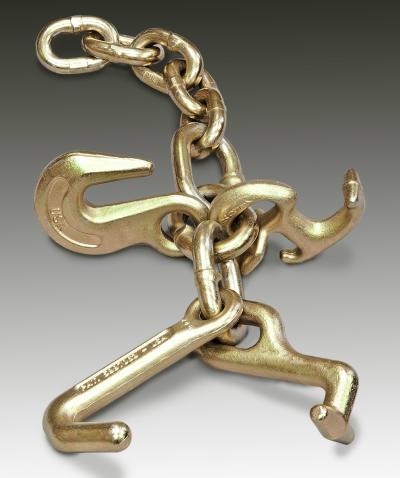 Porter-Ferguson is a division of Lowell Corporation. For more information about P-F auto body repair tools, or for a full-line catalog on either P-F or Lowell tools, call 800/456-9355 or 508/835-2900, email customerservice@lowellcorp.com.