100T Series Triple Square Transmission Tower Wrenches
Three new Lowell #100T Series Tower Wrenches provide greater flexibility for lineman dealing with the most common nut sizes of tower fasteners.  The 1-1/8" x 1-5/16" x 1-1/2" triple square socket allows for tolerances on 1-1/8" square nuts (3/4" bolts), 1-5/16" square nuts (7/8" bolts) and 1-1/2" square nuts (1" bolts).  It also fits 1-1/2" hex bolts.
The Model 103T is 12″ long and weighs 2-3/4 lbs.; the 104T is 15″ long and weighs 3 lbs.; the 105T is 18″ long and weighs 3-1/4 lbs. All three wrenches will fit most common holsters.
All three wrenches have rugged, fabricated steel handles capable of supplying 300 lb-ft of torque. The bolt-thru feature allows long bolts and threaded rods (up to 1-1/8″ diameter) to pass completely through the wrench head. Each wrench also has a large control lever on the side of the head to make reversing easy with or without work gloves.
The compete assemblies are coated with an epoxy paint for durability and easy cleaning.  Designed specifically for utility, construction and maintenance workers, the 100T Series tower wrenches' extended length stands out on the job.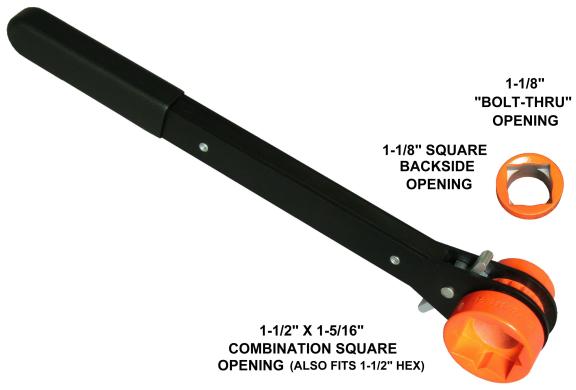 For more information about Lowell's triple square transmission tower wrenches, or for a full-line catalog, call 800/456-9355 or 508/835-2900, email customerservice@lowellcorp.com,  or visit the company's web site: lowellcorp.com.