101 XRS Wrench Can Work In Tight Spaces on Pad Mount Transformers
WEST BOYLSTON, MA October 20, 2011  – A new ratcheting wrench from Lowell Corporation is designed to make it easier for utility workers to open the pentagon security nuts and adjust the 3/4″ hexagon tie-down nuts used on pad mount transformers. The tool offers a number of convenience and safety features.
The 101XRS is built for tough duty with a rugged one-piece design that incorporates gear, shaft and sockets. The sturdy ratchet mechanism reverses with the flick of a lever. There are 32 teeth which reduce the throw angle between teeth and make the tool a good choice for working in tight areas. For extra strength, the head of the wrench is secured with a pin which also eliminates wobbling for better torque and reduced wear. Torque has been tested to 90 ft. lbs.
A cushioned grip improves comfort and reduces worker fatigue. Handle length is 7″ and the tool weighs 1-1/2 lbs.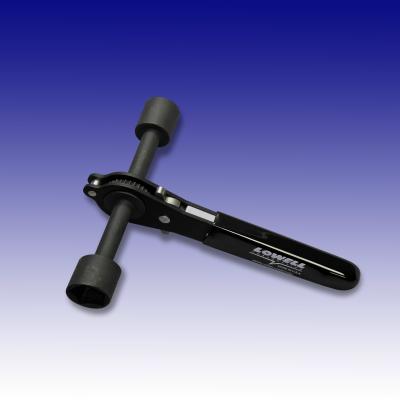 For the name of a distributor, more information about Lowell tools, or a full-line catalog, call 800/456-9355 or 508/835-2900, visit lowellcorp.com or email customerservice@lowellcorp.com.