Better Machine Control with Lowell Ratcheting Crank Handles
WEST BOYLSTON, MA  December 6, 2012 – Ratcheting Crank Handles from Lowell Corporation offer an attractive alternative to handwheels and similar devices for set-up and adjustment of packaging, converting, and printing machinery. Applications include corrugating rollers, die cutters, doctor blades, slitters, unwinds, and rewinds.
With a crank handle, a user can make many adjustments: cross feed; rise and fall; gib and quill; positioning screw; and clamping. Openings include bore and keyway, square, or hex and Lowell can also create custom openings to customer specifications.
Combining leverage and strength with ergonomic design, the crank handles make set-up and adjustment faster, safer, and easier for the operator and easier on machinery.
The devices are made for hard work. In the head of each crank handle is a control that reverses the ratchet action safely and easily. All cranks are steel and are made with riveted stampings. Slim profile gears are pre-assembled at the factory and are not replaceable. With this rugged construction, Lowell crank handles are far less likely to slip, stick, or freeze than other devices and can even generate enough torque to serve as a useful manual backup to a motor.
Lowell's crank handles are designed primarily for permanent mounting on shafts or studs and their bolt-thru design lets them attach to any shaft length. They are available with either fixed or rotating metal handles or lower cost rotating plastic handles. Available arm lengths range from 7"- 12".
In addition to replacing devices on existing machines, Lowell's crank handles can also be incorporated into the design of new machinery. Lowell offers both stock models and custom designs for special applications.
Like all of the company's products, Lowell's Ratcheting Crank Handles are guaranteed against defects in material and workmanship for a period of one year from date of delivery.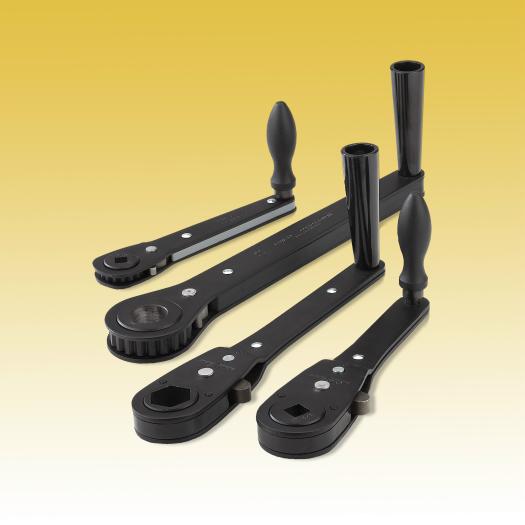 For the name of a distributor, more information about the Lowell tools, or for a full-line catalog, call 800/456-9355 or 508/835-2900, or email customerservice@lowellcorp.com.