Extended Socket Kit Gives Workers Greater Reach and Flexibility
West Boylston, MA  February 19, 2013 – Lowell Corporation's 511X Ratchet Socket Wrench Kit with extended sockets makes it easier to tighten difficult-to-reach nuts found in pipeline and construction work as well as in-plant maintenance, repair, operation and production.
When tightening nuts, workers often face obstacles such as tight spots or housings that may interfere with the swing of a wrench. Lowell's tools make it easier to engage hard-to-reach nuts and to clear many common obstacles. This extra clearance not only reduces the risk of injury, but also gives workers greater leverage and a wider swing which makes tasks easier and faster to complete.
The Lowell 511X Kit features Lowell's Model 51QR ratchet handle and five hexagonal deep well sockets: 7/8", 15/16". 1-1/16", 1-1/8", and 1-1/4".
Each socket is 3-1/2″ long. All components are packaged in a heavy-duty molded plastic case.
Sockets are made of machined steel while the handle is made of cast iron and all ratchet parts are fully enclosed. Lowell's unique Bolt-Thru design allows bolts to pass entirely through the arm head so that nuts can be secured on any threaded length. This rugged construction is ideal for applications such as guard rail assembly, leveling pad adjustment, mechanical joints, restraints, couplings, sleeves, repair clamps, saddles, and flange bolts.
With a quick release feature on the handle, workers can change sockets with the flick of a thumb. For safety and efficiency, sockets are held securely in the handle with a sure-locking dead bolt.
The safety aspect is important. In tackling a task, workers will sometimes grab a tool that wasn't designed for the job; injury to both worker, tool, and fastener may result. The Lowell 511X kit is designed to tackle specific jobs.
Like all of the company's products, the sockets and handle in Lowell's 511X Kit are guaranteed against defects in material and workmanship for a period of one year from date of delivery.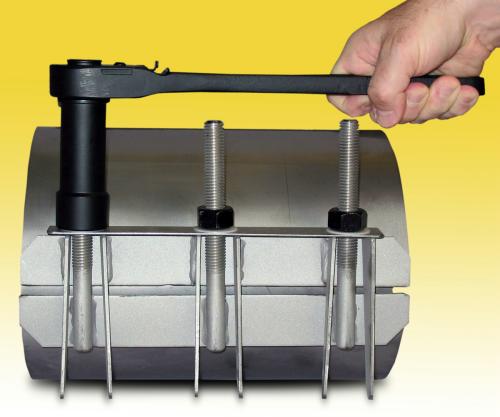 For more information about Lowell wrench sets, or for a full-line catalog, call 800/456-9355 or 508/835-2900, or email customerservice@lowellcorp.com.