Lowell Adds New Sizes to Strap Wrench Line
WEST BOYLSTON, MA   March 1, 2012 – Lowell Corporation has added six new models to its lines of cast iron Simplex and Warnock strap wrenches, tools that make it possible to turn any shape without scratching, denting, or crushing in industrial, construction, water, and high line utility work as well in home applications.
Additions to the Simplex standard duty line are the S-1224, the S-1230, and the S-1848. The Warnock additions are the W-1224, the W-1230, and the W-1848.  Specs are the same for both lines: handle lengths range from 12" to 18"; strap lengths range from 24" to 48"; and capacities range from 4" to 10". Custom strap lengths are available for both models.
Industrial and construction uses include loosening and tightening oddly-shaped and/or frozen fittings, machine and vehicle oil filters, small handwheels, PVC pipe, knurled fasteners and knobs, and turned shafts.
Around the home, the tools are ideal for plumbing repairs and to loosen vehicle oil filters, jar lids, and miscellaneous knobs and odd-shaped handles.
Both Simplex and Warnock wrenches have a baked-on epoxy finish that is harder and solvent-resistant, and, as a result, more durable, than conventional finishes. Both wrenches are guaranteed against defects in material and workmanship for a period of one year from date of delivery.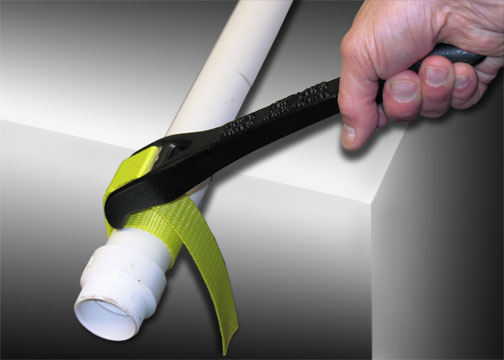 For more information about Lowell strap wrenches, or for a full-line catalog, call 800/456-9355 or 508/835-2900, email customerservice@lowellcorp.com, or visit the company's web site: lowellcorp.com.