Lowell Updates Popular 4 Tools in 1 Socket Wrench
West Boylston, MA  April 10, 2014 – Lowell has made several updates to its popular 8C 4-in-1 ratcheting socket wrench. The 8C features four sockets that can handle the four most common nut sizes found in utility and construction work so that workers can carry one wrench instead of four.
Applications include guard rail assembly, leveling pad adjustment, mechanical joints, restraints, couplings, sleeves, repair clamps, saddles, and flange bolts.
The updates boost the tool's performance and reliability and include improved bite while applying torque, smoother operation, quicker reversing, and increased torque capability.
The 8C's basic features remain unchanged. The hex socket sizes are 1-1/4″ x 1-1/16″ and 1-1/8″ x 15/16″. Ratchets have 36 teeth resulting in a 10º handle throw that is especially useful for working in tight spots and improves worker efficiency and safety. Hi-Vis sockets and handle make it easy to find the wrench in a toolbox or on a work site. The ergonomic stamped steel handle is 17″ long and 1/2″ thick and the tool weighs only 2.5 lbs.
The sockets and handle of the 8C wrench are guaranteed against defects in material and workmanship for a period of one year from date of delivery under normal usage and with prescribed maintenance.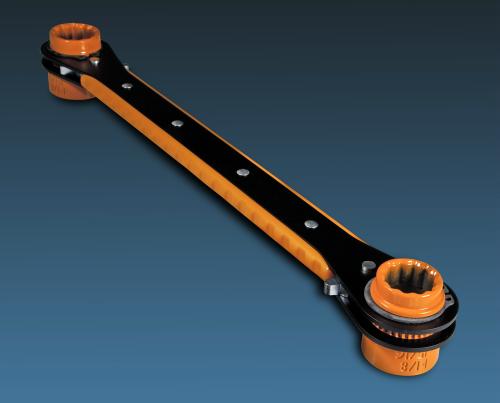 For more information about Lowell wrench sets, or for a full-line catalog, call 800/456-9355 or 508/835-2900, or email customerservice@lowellcorp.com. The web address is lowellcorp.com.