Multi-angle 2-in-1 wrench fits into tight spots on pipelines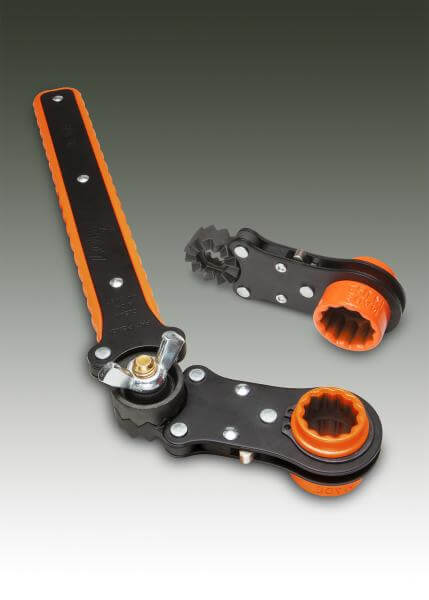 West Boylston, MA March 12, 2015 . . . With its reversible, articulating head and slim profile design, Lowell's Model 8E 2-in-1 ratchet wrench lets workers easily access nuts in tight spots. Two hex socket size combos are available: 1-1/4″ x 1-1/16″ and 1-1/8″ x 15/16″ and their 12-point design makes it easier to engage the four most common nut sizes found in pipeline and construction work.
A unique feature of the wrench is its EZ-flip head, accomplished by loosening a large wing nut. This makes it easier to use the second socket opening without interference from the wing nut.
Ratchets have 36 teeth resulting in a short 10º handle throw that is especially useful for working in confined areas and improves worker efficiency and safety. Hi-Vis sockets and handle make it easy to find the wrench in a toolbox or on a work site. The ergonomic stamped steel handle is 17″ long and 1/2″ thick and the wrench weighs only 2-3/8 lbs. The result is a tool that is not only sturdy but comfortable to use as well.
The investment cast steel sockets promise excellent strength and accuracy and a new ratchet engagement design provides smooth operation and quick reversing with the convenient head-mounted shifter. A rugged spring and pawl give the tool a better bite while under torque. Torque is 200 lb-ft. The 8E is made in USA and is available through distributors.
April 24, 2015 . . .    In response to customers' requests we have added a kit that includes one handle and two heads (p/n 8E4K1).  One head has the 1-1/4″ x 1-1/16″ hex combination socket.  The other head has the 1-1/8″ x 15/16″ hex combination socket.  The 8E4K1 kit weighs 3-3/8 lbs.
For more information email customerservice@lowellcorp.com. The web address is lowellcorp.com and phone is 800/456-9355 or 508/835-2900.