New DoubleShot Wrench from Lowell
West Boylston, MA  June 5, 2014 – Lowell has added the 8D DoubleShot PLUS wrench to its line of DoubleShot wrenches which combine two wrenches in one for rugged duty in pipeline, construction, utility, and maintenance work.
Specific applications include mechanical joints, restraints, repair clamps, service saddles, flange bolts, friction clamps, hydrant break flanges, and gas/water industry couplings.
The DoubleShot Plus features a torque capacity of 200 lb-ft and a new ratchet engagement design that improves bite while applying torque. This completely new design promises smoother operation and quicker reversing.
There are two models of the DoubleShot PLUS: the DSP1 has a 1-1/4″ x 1-1/16″ hex double socket and the DSP2 has a 1-1/8″ x 15/16″ hex double socket. Both models are 13" long and feature ergonomic handles and High-Vis sockets and grips which make it easy to find the tools on a worksite or in a toolbox. Each wrench weighs only 1-3/8 lbs.
With both models, ratchets have 36 teeth resulting in a 10º handle throw that is especially useful for faster, safer work in tight spots. Both models also feature Lowell's Bolt-Thru design that lets workers engage nuts on long bolts or all-thread rod.
There is a conditional one year warranty.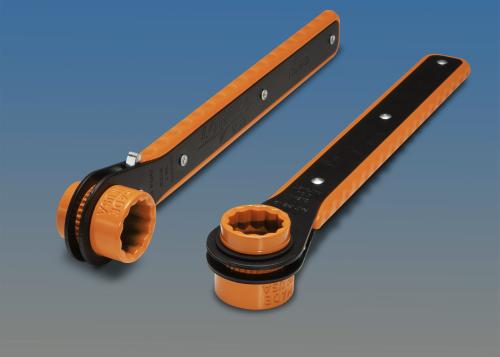 For more information about Lowell wrench sets, or for a full-line catalog, call 800/456-9355 or 508/835-2900, or email customerservice@lowellcorp.com. The web address is lowellcorp.com.