Lowell's 8D DoubleShot PLUS Wrench Features Stronger Torque
Lowell Corporation
West Boylston, MA, January 4, 2020 – Lowell has updated its 8D DoubleShot PLUS wrench, combining two tools in one for pipeline, construction, utility, and maintenance work. The patented Bolt-Thru design makes this tool perfect for extended, rugged duty.
Specific applications include:
mechanical joints
restraints
repair clamps
service saddles
flange bolts
friction clamps
hydrant break flanges
and gas/water industry couplings.
The DoubleShot Plus features a torque capacity of 200 lb-ft and a new ratchet engagement design that improves bite while applying torque. This completely new design promises smoother operation and quicker reversing.
There are two models of the 8D DoubleShot PLUS Wrench: the DSP1 has a 1-1/4″ x 1-1/16″ double hex socket, and the DSP2 has a 1-1/8″ x 15/16″ double hex socket. Both models are 13" long and feature ergonomic handles and High-Vis sockets and grips, making it easy to find the tools on a worksite or in a toolbox. Each wrench weighs only 1-3/8 lbs.
With both models, ratchets have 36 teeth resulting in a 10º handle throw that is especially useful for faster, safer work in tight spots. Both models also feature Lowell's Bolt-Thru design that lets workers engage nuts on long bolts or all-thread rod.
There is a conditional one year warranty.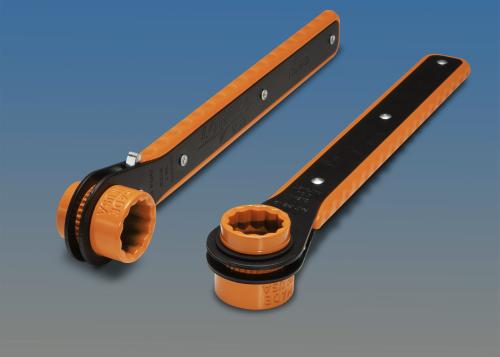 For more information about the Lowell wrench and socket combos, call (800) 456-9355 or email customerservice@lowellcorp.com. You can also connect with us on Facebook for exciting updates on future products.
Durable Tools for Tough Pipeline Maintenance
Lowell Corporation offers the best hand tools in the industry. Whether you need a strap wrench or socket wrench set, you'll want the right balance between cost and efficiency. Our custom hand tools make tough jobs easier with waterworks engineer and lineman tools. We've been increasing productivity in construction, maintenance, and manufacturing operations since 1869. Let our waterworks and lineman wrench technology simplify your workload. With our essential industrial/OEM parts, you get the backing of the most trusted name in the hand tool industry.
Lowell Corporation is proud to manufacture all of its lineman tools right here in the U.S.A. in the heart of New England. All Lowell wrenches are 100% guaranteed with our one-year manufacturer warranty against defects in material and craft for one year from the date of delivery.