New Low Cost Double Socket Wrench Set
WORCESTER, MA  March 18, 2009 – Lowell Corporation has introduced a new line of low cost double socket ratchet wrenches for workers in the water, wastewater, pipeline and underground electrical utilities. The wrenches are available individually or in a three wrench set that includes a durable plastic carrying case.
Each wrench has a different socket combination.
Wrench #1 has a 1-1/4″ x1-1/16″ hex socket. Applications include turning  3/4′ and 5/8″ heavy hex bolts used in mechanical joint fittings up to 24″ diameter, cast couplings, clamps, and tapping sleeves/
Wrench #2 has a 1-1/8″ x 15/16″ hex socket and is used for turning standard hex flange bolts.
Wrench #3 has a 7/8″ x 3/4″ hex socket . Applications include turning 1/2″ heavy hex bolts, 1-1/2″ through 12″ Hymax® couplings, and 1-1/2″-24″ MaxFit™ couplings.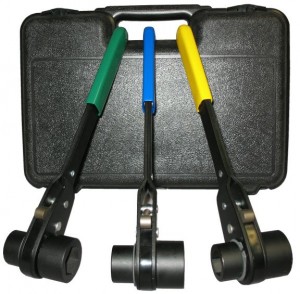 Each wrench is 12″ long and has Lowell's Bolt-Thru feature which lets workers tighten nuts on long bolts and on any length of threaded rod. This eliminates the need for deep sockets or open-end wrenches.  To make using the tools more comfortable and secure, each wrench has a vinyl grip which also reduces fatigue. The grips are color-coded to make wrench identification easier in murky conditions such as a ditch or in the back of a service vehicle.  The wrenches are built for tough duty. Handles and sockets have heavy-duty construction and are coated with electrostatic epoxy paint for durability and easy cleaning.  Ratchets feature a reversing control located in the head of each wrench to reverse the action safely and conveniently and ratchets are semi-enclosed to minimize fouling.  Each wrench has a lifetime warranty against defects in materials and workmanship.
For more information about Lowell wrenches, distributor names, or for a full-line catalog, call 800/456-9355 or 508/835-2900, visit the company's web site: lowellcorp.com, or email customerservice@lowellcorp.com.