New Pipe Wrench Head Offers Greater Flexibility
West Boylston, MA October 22, 2014 – With a 1/2″ square opening on the side, Lowell's new Pipe Wrench Head Adapter can be attached to a breaker bar, torque wrench, or any other tool with a 1/2″ male drive to give workers greater flexibility than would be possible with a standard pipe wrench.
Because the tool is just a wrench head, workers can easily grab it from different angles – especially useful when working in tight spots.
Built for rugged duty, the steel wrench weighs 3-1/4 lbs. and has a 285 lb-ft torque capacity. The jaws open from 1-1/2″ to 5-1/4″.
When used with a ratchet, the tool's unique stop bar prevents unwanted ratcheting during repositioning. Another unique feature is teeth that can be replaced in the field.
Although originally designed to tighten and loosen gas line compression fittings, Lowell believes there are many other uses for the tool in pipeline, plumbing, and plant maintenance applications.
Price of the Pipe Wrench Head Adapter is $309 and it is sold through industrial distributors.
Lowell guarantees the Pipe Wrench Head Adapter against defects in material and workmanship for a period of one year from date of delivery under normal usage and with prescribed maintenance.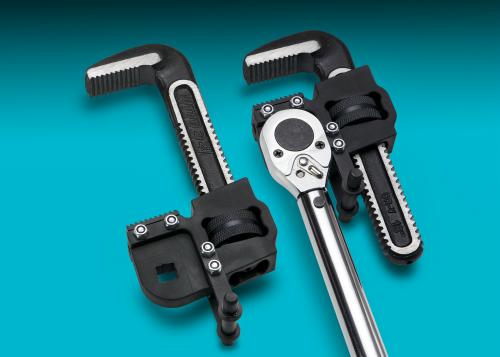 For more information about Lowell wrench sets, or for a full-line catalog, call 800/456-9355 or 508/835-2900, or email customerservice@lowellcorp.com. The web address is lowellcorp.com.