Lowell Pipe Wrench Head Adapter Offers Enhanced Flexibility
Lowell Corporation
Worcester, MA January 18, 2021 – With a 1/2″ square opening on the side, Lowell's Pipe Wrench Head Adapter can attach to a breaker bar, torque wrench, or any other tool with a 1/2″ male drive. It gives pipeline and construction workers greater flexibility than what would be possible with a standard pipe wrench.
Because the tool is just a wrench head, workers can quickly grab it from different angles – especially useful when working in tight spots.
Built for rugged duty, the steel wrench weighs 3-1/4 lbs. and has a 285 lb-ft torque capacity. The jaws open from 1-1/2″ to 5-1/4″.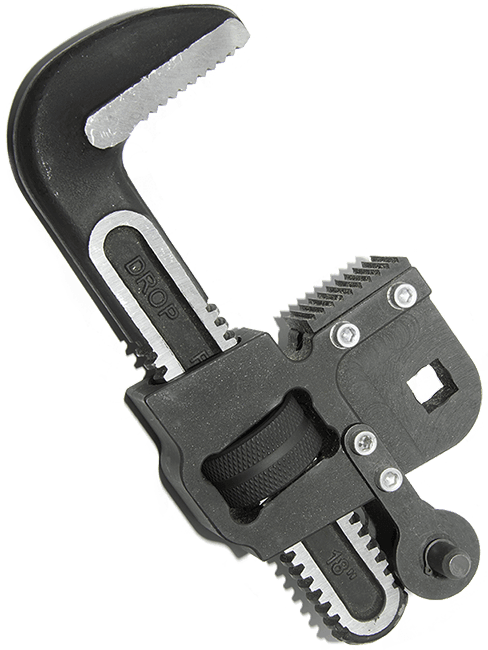 When used with a ratchet, the tool's unique stop bar prevents unwanted ratcheting during repositioning. Another unique feature is the teeth that users can replace in the field.
Although initially designed to tighten and loosen gas line compression fittings, there are many other uses for the tool in the pipeline, plumbing, and plant maintenance applications. The adapter is available as a compatible upgrade to all existing Lowell pipeline and construction hand tools.
For more information about the Lowell wrench and socket combos, call (800) 456-9355 or email customerservice@lowellcorp.com. You can also connect with us on Facebook for exciting updates on future products.
Need help finding the best Lowell Product? Contact Us for more information
Flexible Tools for Tough Construction
Lowell Corporation offers the best hand tools in the industry. Whether you need a strap wrench or socket wrench set, you'll want the right balance between cost and efficiency. Our custom hand tools make tough jobs easier with waterworks engineer and lineman tools. We've been increasing productivity in construction, maintenance, and manufacturing operations since 1869. Let our waterworks and lineman wrench technology simplify your workload. With our essential industrial/OEM parts, you get the backing of the most trusted name in the hand tool industry.
Lowell Corporation is proud to manufacture all of its lineman tools right here in the U.S.A. in the heart of New England. All Lowell wrenches are 100% guaranteed with our one-year manufacturer warranty against defects in material and craft for one year from the date of delivery.