New Quad Square linemen's wrench makes work easier and safer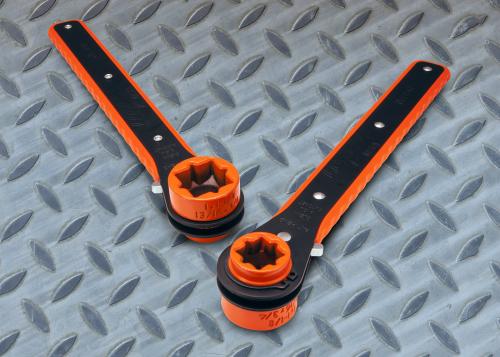 West Boylston, MA December 10, 2014 . . .  The new 8D-QS Quad Square Lineman's Wrench from Lowell Corporation packs a number of features to make work easier and safer for high line workers.
Weighing only 1-3/8 lb. and only 13″ long, the Quad Square is easy to carry up a pole on a tool-belt and is well balanced for easy and safe prolonged use. Its 200 lb-ft of torque delivers serious turning power. Low profile steel sockets with 36 teeth yield a 10º handle throw making the tool ideal for working faster and safer in tight spots. The investment cast steel sockets promise excellent strength and accuracy and a new ratchet engagement design provides smooth operation and quick reversing.
There are four square sizes in the two-sided socket: 1-1/8″ for 3/4″ hardware, 1″ for 5/8″ nuts, 13/16″ opening for 1/2″ hardware, and a 3/4″ size to handle 1/2″ lag bolts.
The 8D Quad Square has a 13″ ergonomic handle with a full length grip which lets a worker grab the wrench at any point on the handle. High-Vis sockets and grips make it easy to find the tool on a worksite or in a toolbox.
The wrench also features Lowell's Bolt-Thru design that lets workers engage nuts on long bolts or all-thread rod.
Although the 8D-QS is designed for years of trouble-free operation, Lowell recommends that the tool be cleaned and lubed after each use to ensure long life and optimal performance. There is a conditional one year warranty.
For more information email customerservice@lowellcorp.com. The web address is lowellcorp.com and phone is 800/456-9355 or 508/835-2900.