New six-in-one Compact Lineman's Wrench from Lowell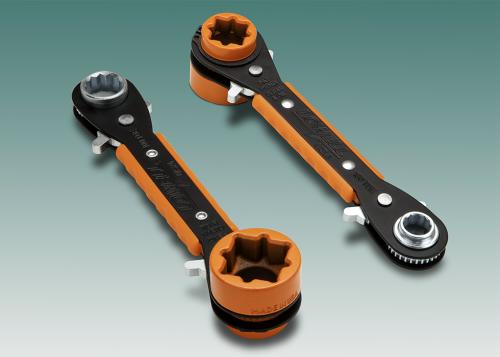 West Boylston, MA  September 30, 2014 – In a compact package, Lowell's new 100 TDE Dual End Ratchet Wrench gives high line utility workers six different socket sizes combined to handle a variety of common pole fasteners, lag bolts, and C clamps. The wrench has a ratcheting socket at one end and a ratcheting box at the other.
The new wrench measures only 8″ long, has a handle that's only 1/2″ thick,  and weighs only 1-1/4 lbs. But there's nothing lightweight about the tool's turning power. Engineered for tough duty, the wrench features double ratchet tooth engagement for added strength and can generate the kind of torque a lineman needs. For work in tight spots, the socket end only requires an 11º swing while the gear end requires only a 12º swing.
The ratcheting socket end of the wrench provides four sizes: 3/4″, 13/16″ 1″, and 1-1/8″. The other end has two hex sizes: 9/16″ and 3/4″. The latter will also turn 5/8″ square nuts. It will fit most common holsters.
The socket is made of cast-iron for durability. Both the socket and the ergonomic handle grip are painted fluorescent orange for easy visibility and tracking.
A bolt-thru feature allows long bolts and threaded rods to pass completely through the wrench head. A large control lever on each end makes reversing easy.
Lowell guarantees the sockets and handle of the 100TDE wrench against defects in material and workmanship for a period of one year from date of delivery under normal usage and with prescribed maintenance.
For more information about Lowell's dual end lineman's wrenches, or for a full-line catalog, call 800/456-9355 or 508/835-2900, email customerservice@lowellcorp.com,  or visit the company's web site: lowellcorp.com.