New Tool Combines Three Socket Sizes in One
WORCESTER, MA  October 23, 2012 – Designed for transmission line utility workers, the Triple Socket has a slim profile and light weight for easy handling. It can be used with any impact wrench or rattle gun to install or tighten transmission tower hardware.
Overall length of the tool is 10-3/8″ and it weighs 3.5 lbs. The three square socket openings are: 1-1/8″ for 3/4″ hardware; 1-5/16″ for 7/8″ hardware; and 1-1/2″ for 1″ hardware. The socket also fits 1-1/2" hex nuts.
For use with 1/2″ impact wrenches, a 7/16″ Quick Change Adapter is included. The tool can be turned end for end without having to remove the adapter from the wrench.
The Triple Socket's 1-1/16″ shaft is hollow and is deep enough to allow workers to access nuts on many different threaded lengths.
The Triple Square Transmission Impact Socket is guaranteed against defects in material and workmanship for a period of one year from date of delivery.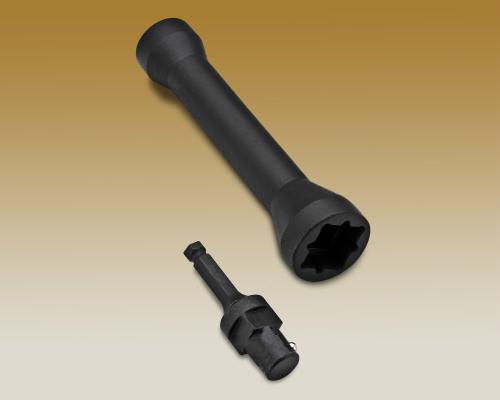 For more information about Lowell's triple square transmission tower wrenches, or for a full-line catalog, call 800/456-9355 or 508/835-2900, email customerservice@lowellcorp.com,  or visit the company's web site: lowellcorp.com.