Ratcheting Crank Handles Simplify Industrial OEM Design
Lowell Corporation
WORCESTER, MA – Lowell Corporation's ratcheting crank handles offer an alternative to hand-wheels and other devices for machine control in both OEM and retrofit applications.
Designed primarily for permanent mounting on shafts or studs, Lowell's ratcheting crank handles are far less likely to slip, stick, or freeze than other devices. With their small arc of operation, adjustment is faster, safer, and easier for the operator and reduces wear on the machinery. And a Lowell crank can generate enough torque so that it can be a useful manual auxiliary to a motor.
Why Choose Lowell Parts?
Although they may be purchased as replacements for equipment on existing machines, Lowell's crank handles can also be incorporated into the design of new machinery. Standard models come with either fixed metal handles, rotating metal handles, or lower-cost rotating plastic handles. Arm lengths range from 7"- 12". In addition, the company offers custom designs for special applications.
Lowell crank handles offer tremendous flexibility in the variety of openings available. Buyers may choose bore and keyway, square, or hex, and Lowell can also create custom openings to customer specifications. The handles also provide great flexibility in the many adjustments that a user can perform: cross feed; rise and fall; gib and quill; positioning screw; and clamping.
Built for hard use, the handles utilize stamped steel handle plates, solid steel gears, hardened and powder-coated, corrosion-resistant epoxy paint. Gears that we pre-assembled at the factory are not replaceable. For convenience, there is a head-mounted reversing control for easy fingertip operation.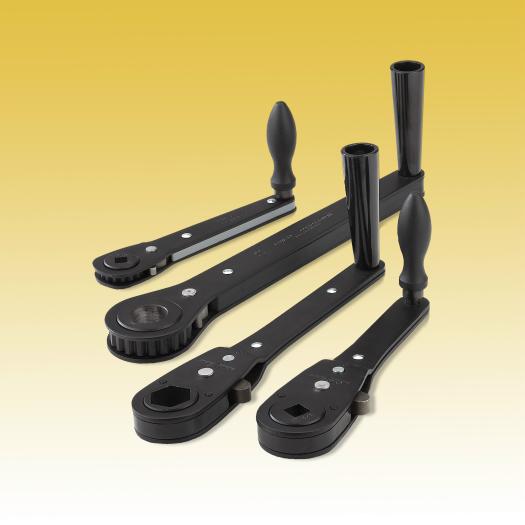 For more information about the Lowell wrench sets, or for a full-line catalog, please call (800) 456-9355 or email customerservice@lowellcorp.com.

Custom Ratchets for Industrial Design
To make your lives easier, Lowell Corporation offers the best hand tools in the industry. For most manual lineman labor and machine design, there is a balance between cost and efficiency. Overall, our ratchet technology strikes the best balance for productivity in construction, maintenance, and manufacturing operations. Let our ratchet and wrench technology make your labor go smoothly. With our essential lineman tools, you get the backing of the most trusted name in the hand tool industry.
Lowell Corporation is proud to manufacture all of its tools right here in the U.S.A. in the heart of New England. All Lowell wrenches are 100% guaranteed with our one-year manufacturer warranty.