Valve Key Sockets Securely Grip Worn and Corroded Valve Nuts
West Boylston, MA  June 19, 2013 – When you're in the field and need to open a valve, it's frustrating when your valve key can't engage a badly worn or corroded nut. In an emergency situation, not having the right tool can be very costly. Lowell's valve key sockets solve the problem.
The tools come in a durable, compact case containing three different sizes that can handle anything from standard 2″ square nuts on down to 113/16" Boston gate nuts. The kit also includes an attachment plate and a 3″ screw for easy mounting the socket on any standard key.
The sockets are easy to use. To start, see which of the three sockets is closest in size to the nut you want to loosen. Then insert the kit's attachment plate into the open slot in the valve key. Next insert the socket into the key's 2″ open end, rotating it until it fits. Then pass the 3″ screw through the socket until it engages the attachment plate, and tighten with a screwdriver.
Position the valve key over the nut and apply downward pressure. If the socket doesn't go down far enough on the nut, rap the top of the valve key until the socket is well seated. Then turn the valve key and the nut should loosen. You save time, money, and frustration.
Like all of the company's products, Lowell's valve key sockets are guaranteed against defects in material and workmanship for a period of one year from date of delivery.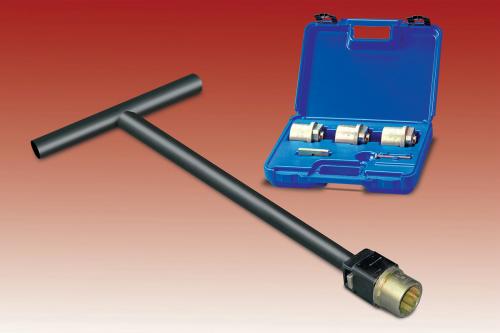 For more information about the Lowell wrench sets, or for a full-line catalog, call 800/456-9355 or 508/835-2900, or email customerservice@lowellcorp.com.