Red, White & Blue – The Best U.S. Ratchet Company for 150 Years
Lowell Corporation
Lowell Corporation, the best U.S. ratchet company, is proud to announce the return of our "Red, White & Blue" campaign! Featuring limited edition, star-spangled versions of our most popular products, these hand tools will be restocked after Labor Day. Coming soon to our network of distributors and hand tool partners near you!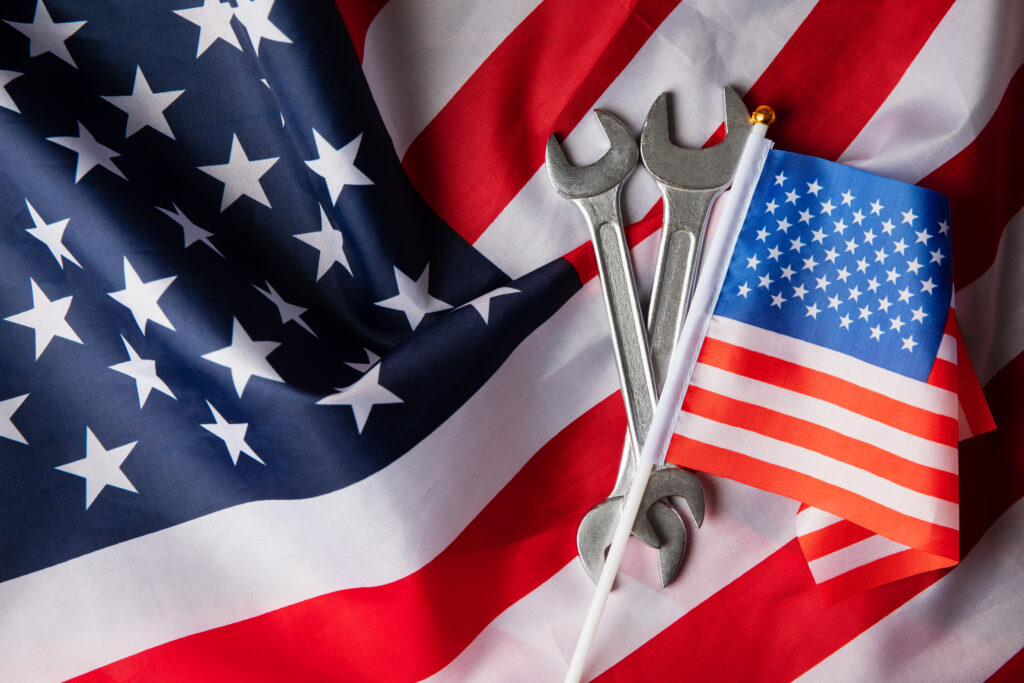 Part of American History
Lowell Corporation's motto is "Made in the USA since 1869." We say it so often that we sometimes forget how different the world was 150 years ago. When Lowell Corporation was still a trademark, homes lacked electricity, running water, or central heating systems. It would be 20 years before the first automobile appeared.
When our company was founded in 1869, Ulysses S. Grant was still president, and the United States was still reeling from the assassination of President Lincoln. Modern-day electrical grids – now our most lucrative market – were nowhere near as developed as today's standards. The original patent for our Bolt-Thru™ ratchet wrench dates back to December 6, 1864. Five years earlier, entrepreneur Henry Sinclair purchased the patent and founded the Lowell U.S. ratchet company to produce and ship his ratchets nationwide.
Lowell Wrench Model No. 1
The pictured wrench has hung in Lowell President David Cummings's office for years. It is similar to the wrenches we make today but also significantly different. Everything except the cover plate and pawl springs are made of cast iron. The cast pawls and shifter are very intricate. Machining the inside of the wrench for the internal parts involves securing the part in a jig passed down a line of drill presses. Each station machined (drilled or milled) an individual hole or pocket.
Today, though we still offer a number of cast iron ratchet arms, clutches, and wrenches, we are designing and making a new generation of fabricated steel tools. These new tools have investment-cast steel sockets that are lighter and stronger than their predecessors. The handles contain high-strength steel plates and a high-impact plastic spacer that overlaps the steel plate. This forms the basis of our patented ergonomic grip. This new technology produces a wrench that weighs 1-3/8 pounds with a torque capacity rated at 200 lb-ft.
Here's to 150 more years of innovative American manufacturing!
Why Linemen Nationwide Trust Lowell Tools
For over 150 years, Lowell Corporation has been a steadfast partner to linemen nationwide, earning their trust through a rich history of innovation, quality craftsmanship, and a deep commitment to the lineman community. Our legacy as the best U.S. ratchet company is not just built on tools; it's a testament to our enduring connection with those who keep the lights on and communities connected.
Since our founding in 1869, Lowell has been a trailblazer in the hand tool industry. Our iconic Bolt-Thru™ ratchet wrench, dating back to the 19th century, was a testament to our dedication to craftsmanship and excellence. As times have evolved, so have our tools. We've embraced advancements in materials and technology, creating the next generation of lineman tools that are lighter, stronger, and more ergonomic without compromising the rugged dependability that linemen rely on.
Our commitment to the lineman community extends beyond manufacturing exceptional tools. Lowell proudly sponsors lineman colleges, participates in electrical utility events, and collaborates with linemen in the field and on social media. We understand the challenges and demands linemen face, and we actively engage with the community to ensure our tools meet their evolving needs. This dedication to constant improvement has forged a bond of trust between Lowell and linemen nationwide.
The Latest and Greatest Lineman Tools
For Distribution Linemen:
For Transmission Linemen:
Lowell Tools – Proudly Made in the U.S.A.
To make your lives easier, Lowell Corporation specializes in hand tools that are fully compliant with OSHA standards. Whether your job needs a lineman speed wrench, lineman socket, roller clutch, crank handle, or a tight-fit wrench, Lowell has custom solutions for your construction tool safety.
For most manual lineman labor and machine design, there is a balance between cost and efficiency. Our ratchet technology strikes the best balance for productivity in construction, maintenance, and manufacturing operations. Our ratchet and wrench technology can save you time and money for your next project. When you use a Lowell tool, you choose the most trusted U.S. ratchet company in the hand tool industry.
Lowell Corporation is proud to manufacture all its tools right here in the U.S.A. in the heart of New England. All Lowell wrenches are 100% guaranteed with our one-year manufacturer warranty*. Always clean and lubricate tools after each use to ensure long life and maximize capability.
*1 Year Manufacturer's warranty covers manufacturer defects & workmanship only. It does not cover intentional abuse, misuse, improper maintenance, or product alterations.