Tools That Every Distribution Lineman Should Carry
Lowell Corporation
Tools That Every Distribution Lineman Should Carry
A distribution lineman is expected to be a one-person toolbox. Between pliers, tight fit wrenches, screwdrivers, cutters, cable knives, and rulers – not to mention the weather – it's a wonder that linemen can still climb tall distances. But what are the essential tools for a utility worker who's braving the elements?
Your Essential Hand Tools
Lowell Corporation knows that when you're hanging on a utility pole, your toolkit needs to include every size and shape of the lineman speed wrench available. That's where Lowell wrenches come in. For instance, a 4-in-1 wrench could be your substitute for multiple other wrenches. That way, you save valuable time and the hassle of multiple trips up and down your work pole. Here's a comprehensive list of the latest Lowell wrenches that can lighten your toolkit:
All 13 of these handy tools are compatible with high line utility pole installation and repair. Models 50T, 51T, 101T, 150T & 151T are specially designed for overhead, high line, distribution labor. Their ergonomic handles make repairs more comfortable, and their unique Bolt-Thru design lets bolts pass entirely through sockets. Finally, with a Lowell wrench, you can secure nuts and bolts of any threaded length.
The Lineman's Choice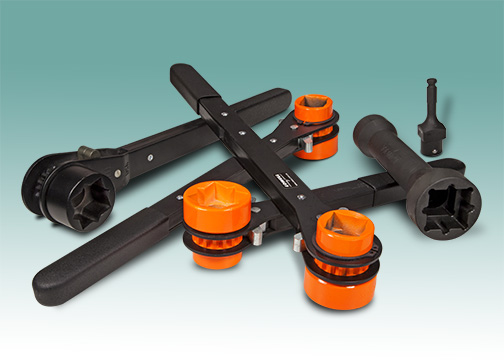 Lowell Corporation has been the lineman's choice since 1869 for tight fit wrenches, lineman speed wrenches, and 4-in-1 wrenches. Lowell Corporation offers the essential tools that every distribution lineman should carry. With over 3,500 products among its distributors, we offer competitive pricing as well. With the industry's highest quality customer service, a directory of the top distributors, and a cutting-edge design facility to produce custom tools, linemen trust Lowell Corporation to create the tools they use every day.
In addition to supplying the most advanced tools to the world's leading manufacturers, Lowell Corporation creates custom tools for all distribution lineman applications. As a result, Lowell wrenches are crucial for every crew for electrical utilities and contractors, co-ops, and municipalities. They specialize in cutting costs, resources and reducing the hassle of finding a specific tool for the job. To that end, Lowell Corporation's expert customer service team, ratchet designers, state-of-the-art design floor, unparalleled distributor partnerships, and acclaimed tool catalog facilitate the day-to-day labor of distribution lineman all over the country.
When it comes to line work, the right tools and technology can make the difference between a lineman's efficiency on the job and lost productivity. Lowell Corporation is once again honoring innovation in product development with its newest line of tight fit wrenches, lineman speed wrenches, and 4-in-1 wrenches to honor innovation in product development. Regardless of the weather outside or the height you're climbing, we've got your back.
Signature Design
Lowell Corporation's ratchet technology makes linemen and original equipment more effective. We use this guiding principle in almost every tool we manufacture: ratchet arms, ratchet clutches, socket wrenches, roller clutches, and related products. For over 150 years, Lowell Corporation has led the manufacturing industry in the area of ratchet production. As the foremost leader in tool production, Lowell Corporation is a leader in innovation.
With unique aspects like our signature Bolt-Thru design, our rugged ratcheting lineman's wrenches can deftly solve all of the issues in a typical utility lineman's, whether you work in transmission or distribution. Our tools are compatible with telephone poles, power lines, and transmission stations. Above all, our goal is to create tools compatible with virtually all of the technology in electrical transmission and distribution applications. Plus, with features that include dual opening sockets and multi-angle adjustable handles, our rugged ratchet socket wrenches can easily handle all of the hardware found in every aspect of lineman work.
To review, design engineers depend on Lowell Corporation to make tough designs work easily. In fact, all of Lowell's ratchet arms, clutches, and hydraulic devices provide reliable, economic machinery control without external power sources.
The Leader in Custom Wrenches
Lowell wrenches, clutches, specialty tools, and clamps are the standard in critical utility, industrial, and military applications.  However, if our standard products don't fit your specifications, we can help you design a custom product for your application. In fact, Lowell Corporation fulfills any of the following:
Modifications to an existing product
Assisting your design team with an application solution
Custom ratchet gear pass-through openings
Alternative exterior finishes
Custom handle lengths
Special engravings
Lastly, a varied number of ratchet gear teeth
Beyond that, more complex customizations can include exotic materials or a completely new design.
Also, we can meet your goals with our custom orders in terms of a completely new design. For example, Lowell can outfit your specialized tool with a Bent Handle for Steel Pipe End Prep Tool, Hinged Handle for Shelter Mobilizer, Locking Mechanism for Folding Helicopter Tail, or Ratchet Arm for Soil Probe. Therefore, no matter what type of lineman work you're performing, Lowell has the right tool for you. Make your climb easier and your job safer by equipping yourself with the best wrenches in the industry.
Cutting-Edge Technology
In conclusion, Lowell Corporation offers the best tools in your hands. For instance, on most manual lineman labor and machine design, there is a balance between cost and efficiency. Our ratchet technology strikes the best balance for productivity in construction, maintenance, and manufacturing operations. Let our ratchet and wrench technology be the best turning point for you. With our essentials tools that every distribution lineman should carry, you'll be backed by a trusted partner and the best name in the electrical lineman industry.
Lowell Corporation is proud to manufacture all of its tools right here in the U.S.A. in the heart of New England. All Lowell wrenches are 100% guaranteed with our two-year manufacturer warranty.