New QC Optical Measurement Machine to Produce High-Quality Tools
Lowell Corporation
WEST BOYLSTON, MA – Lowell Corporation prioritizes the integration of cutting-edge technologies into their manufacturing processes. Lowell's dedicated quality control team relies on the precision of the Quick Vision Elf machine by Mitutoyo to guarantee dimensional accuracy in both prototypes and final products. By utilizing these state-of-the-art optical measurement machines, Lowell ensures the utmost precision in both their design and final products.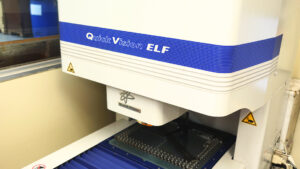 Quick Vision ELF Optical Measurement Machine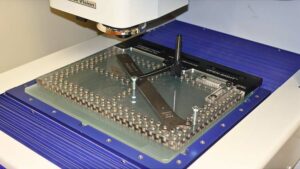 Lowell's Custom Quality Control Optical Measurement Machine
The Quick Vision ELF is a cutting-edge, automated vision measurement system with a sleek and ergonomic design. By incorporating a state-of-the-art optical measurement machine like this, Lowell is able to enhance lead times for our clients and assist the engineering team in ensuring exceptional accuracy and precision during assembly and final quality inspections. Lowell Corporation continuously implements new technologies to elevate various aspects of production processes to further enhance their high quality 100% Made in the USA products.
The Best American Wrench Manufacturer Since 1869
Lowell Corporation offers the best industrial tools in the industry. Whether you need a wheel or a valve wrench, your company deserves the right balance between cost and efficiency. Our custom hand tools make tough jobs easier for design engineers, waterworks engineers, and utility linemen. We're proud to distribute reliable hand tools to help linemen nationwide.
We've been increasing construction, maintenance, and manufacturing productivity since 1869. Let our trusted socket wrench sets simplify your workload no matter which strap wrench set you need. With our essential lineman tools, you get the backing of the most trusted name in the hand tool industry.
Make sure to follow us on Instagram for exciting product updates and promotions!