How to Use a Socket Wrench
Lowell Corporation
This article will provide detailed, step-by-step guidelines on how to use a socket wrench.
We've also included some basic maintenance tips and best safety practices to extend the lifespan of your tools, whether you're using a valve wrench, strap wrench, or other lineman tools.
What Is a Socket Wrench?
A socket wrench is a specific kind of wrench used to turn fasteners and has a socket on one end. This tool is also called a ratchet wrench. It's a handheld piece of equipment with a ratcheting system fitted to the handle. The handle allows you to tighten or loosen nuts and bolts by pushing or pulling the handle. The socket typically attaches around the fastener.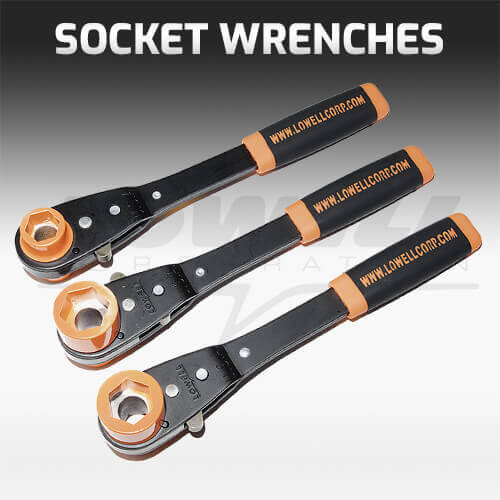 Is a Wrench the Same as a Ratchet?
Although many use "ratchet" and "wrench" interchangeably, they have different meanings. A ratchet is a type of wrench, and the most significant part of a ratchet wrench is the socket mechanism, which holds the handle in place while the user pushes or pulls on it. This difference is more practical and accelerates the tightening and removal procedure.
Looking for high-quality lineman tools? Read our product guide for utility workers.
The Most Effective Way to Use a Socket Wrench
Everything you need to know about using a socket wrench set, including how to choose the best wrench for your project, is provided in the following steps. This information is intended for beginners and should assist you in understanding how to use this tool effectively and safely.
1) Choose the Right Socket
Socket wrenches have adjustable sockets or sockets in various sizes that can be attached to the handle. You can use the same tool in various applications and fastener sizes. It's crucial to pick the right socket size to prevent harm and complete your task as quickly and efficiently as possible. Given that you won't typically need to measure or estimate the size by sight, this is probably simpler than you may imagine.
Most sockets have size indicators on them, or to see if it is a good fit, you can fit the socket to the fastener before connecting it to the handle. If the socket seems too tiny or too large on the fastener, try another size first. This step is crucial to prevent damage to your hardware. To prevent your fastener from getting trapped, start with a bigger size and work your way down.

2) Connect the Socket
Attach the socket to the handle using a wrench with several removable sockets. Once you've decided what size to use, lock the appropriate size in place if you're using an adjustable socket wrench set.
3) Perform a Quick and Thorough Inspection
It is advisable to check your socket wrench set before using it to ensure it is operating correctly. Hold the socket firmly in place with one hand while turning the ratchet repeatedly from left to right with the other hand.
Linemen need tough wrenches that can withstand the test of time. Trust Lowell to make your utility work easier.
4) Attach the Socket to the Fastener
Connect the socket to the head of the fastener; the fit should be strong enough to allow you to adjust the ratchet whenever. Don't rush this because it's arguably the most crucial phase and demands precision.
5) Turn the Fastener
It's important to remember that tightening a fastener requires twisting the wrench handle in a clockwise direction, while loosening a fastener requires moving the wrench handle in a counterclockwise direction. Spin the wrench handle where you want the nut or bolt to go. If you can achieve a solid grip, you can try moving the handle again and starting over to create more turns. You may even need to grasp the socket to prevent it from rotating in the wrong direction because the tool needs resistance.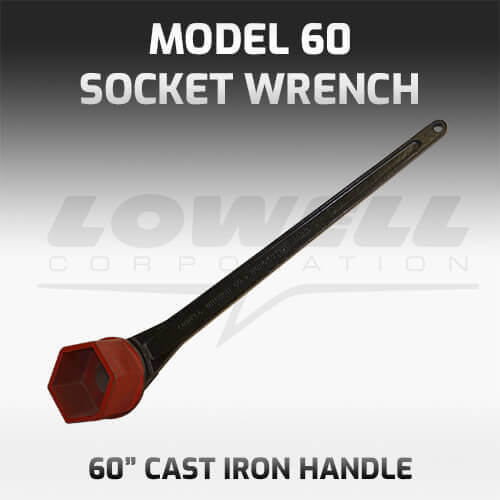 6) Continue Turning Until Tight
Rotate the handle continuously until the fastener is entirely tightened or loosened. A button on some socket wrench sets makes removing the socket from the fastener simple. Push the button to release the tool from the fastener once you're finished. You will have to physically remove the socket if your wrench has a quick-release mechanism, which can require some strength.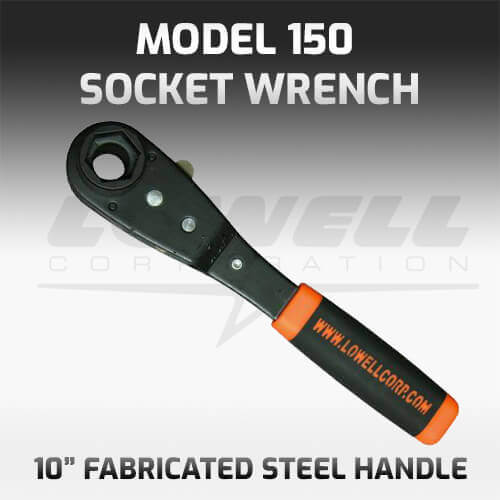 Tool Maintenance Tips and Techniques
If you want to use your wrench frequently or on various projects, purchase a high-quality socket set. A high-quality set will typically be simpler to use and come with many socket sizes (for instance, a good wrench must have the quick-release button cited in step 6 above).
Check to see whether you aren't harming the wrench's jaw if you must apply much force to turn the handle.
Use a socket that is the proper size for the fastener and is not excessively large or loose. This precaution can strip the fastener or destroy it, and it might even cause you to slide, which is dangerous.
To make your labor much more comfortable, you can get extensions for your socket wrench set. For instance, you may discover that different tasks require a shorter or longer bar. Purchase a wrench that can accommodate extensions (or that includes extensions), and purchase several different extension sizes too. You can use this when working in remote or difficult-to-reach areas, such as when dealing with automotive components.
Make sure to keep your socket separated by size and put them back where they belong after use. It can save you time, energy, and other resources in the long run.
Refer to a handy tool safety guide every time you use your wrench.
Ready to save time and money on
your power lineman tools?
The Best American-Made Lineman Tools Since 1869
Lowell Corporation offers the best industrial tools in the industry. Whether you need a strap wrench or a power lineman wrench, you'll want the right balance between cost and efficiency. Our custom hand tools make tough jobs easier for waterworks engineers and lineman tools. We're proud to work with distributors like J.L. Matthews to help linemen across the country.
We've been increasing construction, maintenance, and manufacturing productivity since 1869. Let our trusted socket-wrench innovations simplify your workload no matter which socket sizes you need. With our essential power lineman tools, you get the backing of the most trusted name in the hand tool industry.
Lowell Corporation is proud to manufacture all of our lineman tools right here in the USA in the heart of New England. All Lowell wrenches are 100% guaranteed with our one-year manufacturer warranty against defects in material and craft for one year from delivery.
Make sure to follow us on Instagram for exciting product updates and promotions!